Delta Polymers is a trusted distributor and supplier of quality concrete repair compounds. One such epoxy material we manufacture is concrete paint. A variety of industrial applications utilize these paints. We provide our products to customers throughout Long Island and New York, as well as nationwide.

For more information about our products, please call us today. Our number is: (631) 254-6240. When you call, we will gladly assist you with any questions or concerns you may have on the matter. So please, do not hesitate to reach out and learn more today!
Popular Applications for Concrete Paint
Painting a concrete floor is a different animal when compared to other paint jobs. That is why the steps for using concrete paint differ when compared to other painting methods.
The first step in the process is to wash the floor with a degreasing solution and rinse it several times until the mop is clean. But before moving on you must make sure that the floor is completely dry. If the floor is showing any signs of water seepage, then that can compromise the job on the whole. The drying can take several days. When applying concrete paint, you may be able to follow these general steps:
Sand and Vacuum the Floor: Any old paint or uneven surfaces must be sanded off and vacuumed to make the surface as smooth as possible. Afterwards, any leftover residue should be wiped down with a cloth.
Cracks and Holes Must Be Filled: Any cracks or holes in the concrete floor must be filled using a special patch compound. A trowel can be used to push the compound into any depressions. Once applied, it must thoroughly dry.
Apply The Primer: Two coats of primer can be applied using a paint roller. The floor must be completely dry before applying the second coat. If the floor surface is already very smooth, perhaps only one coat is needed.
Apply The Epoxy Paint: Two to three coats of the paint is required. Apply it by using a clean paint roller or paint compressor. Between each coat, let the floor dry completely otherwise the end result will be compromised.
Apply Masonry Sealer: The final step is to apply a few coats of masonry sealer. Use a clean roller or compressor. And like each step proceeding this one, the floor must be completely dry before applying a new coat.
These are the basic steps required in the application of paint for concretes. Please be sure to follow any instructions that come along with the product. Please do not hesitate to reach out to us for any issues or questions regarding the application of concrete paint.
DIFFERENT CONCRETE REPAIR OPTIONS
Different types of repair jobs in New York can call for different types of concrete repair products to be used. We can provide you with the right options to fix a wide range of issues when it comes to concrete damage. Our epoxy products can help with small cracks and all the way up to any larger concrete problems. Concrete sealer helps to keep your concrete from future cracking and offers longevity that many other outlets do not provide.
THIN CONCRETE REPAIR METHODS
There are various technologies and techniques in place to best repair concrete surfaces. Repairing thin concrete surfaces can be an issue, as abrupt cracking and splitting can occur. There are a few steps to follow in order to get the best results.
Cleaning the surface is the first step. Remove any loose material, such as dirt, oil or grease, as well as any unsound or flaking concrete. This area also needs to be scrubbed appropriately before applying any cleaner.
Once it has been cleaned, rinse out the area.
Then follow the instructions for the concrete repair compound you purchased. The application could be different depending on which item you purchased, so keep that in mind.
That is simply a general method for repairing concrete. Be sure to follow more direct methods when placing concrete repair compounds down. Or consult a professional to help with the matter. Our epoxy manufacturing facility in New York handles custom jobs, so if you need concrete repair epoxy for a specific reason then we can work on it!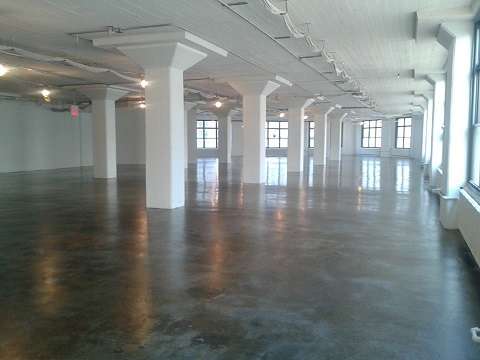 Request A Free Quote Today
Delta Polymers is a trusted manufacturer of epoxies. We have the ability to produce epoxies that perfectly fit your needs and applications. So what we do goes beyond providing customers with high-quality concrete paint. We also have concrete repair compounds in our inventory. This is the perfect material to use before you lay down a coat of paint.
For more information about our selection of epoxies, please reach out to us today. We have years of experience in the industry and can help you with any issues you might have about this process or our epoxy products in general. Though located on Long Island, we ship nationwide for your convenience. So please, do not hesitate to reach out today. The number for our office is (631) 254-6240. When you call, we can provide you with a free consultation and quote!