Manufacturer of Concrete Repair Compounds
Delta Polymers of New York has a great selection of concrete repair compounds available at great, wholesale prices. Though located on Long Island, New York, we ship all of our products nationwide. So, no matter where your business is located, we have you covered with the best epoxy products on the market! You can ably use our concrete repair compounds for a variety of settings and locations. We provide you with options, so you can choose the one that is perfect for your task at hand.
For more information on how to get your hands on our concrete repair materials in New York, please give us a call. The number to dial is (800) 966-5142. When you call, we can provide you with a free quote for the items you want.
Thin Concrete Repair Methods
There are a few different sorts of methods when it comes to properly repair concrete. Repairing thin concrete surfaces can be an issue, as abrupt cracking and splitting can occur without a moment's notice. There are a few steps to follow in order to get the best results:
The first step is properly cleaning the surface. Remove any loose materials, such as dirt, oil or grease, as well as any unsound or flaking concrete. The area should also be scrubbed appropriately before applying any cleaner.
Rinse out the area after it has been thoroughly cleaned.
After it has been cleaned and rinsed, you can then follow the instructions for the concrete repair compound you purchased and apply it. The application could be different depending on which item you purchased, so keep that in mind during the process.
That is simply a general method for repairing concrete. Be sure to follow more direct methods when placing concrete repair compounds down. Or consult a professional to help with the matter. Our epoxy manufacturing facility in New York handles custom jobs, so if you need concrete repair epoxy for a specific reason then we can work on it!
Various Repair Applications
We manufacture all of the concrete repair compounds in-house, so you know they are products you can trust! We have been doing this for over 25 years and have become trusted by many who need high quality and affordable epoxy products.
Different types of jobs call for different types of concrete repair epoxy products. We have a great selection of products that give you various options to fix any concrete damage. These issues can be small cracks to larger holes. And concrete sealer helps to keep your concrete from cracking in the future. It also offers longevity that many other products simply do not provide.
The concrete repair epoxies we manufacture and sell are perfect for contractors and construction workers. When you are working with pavement in any way, the use of an effective concrete repair epoxy can go a long way. And make the end result of any concrete project more durable.
Different Concrete Repair Options
Different types of repair jobs in New York can call for different types of concrete repair epoxy products to be used. We can provide you with the right options to fix a wide range of issues when it comes to concrete damage. Our epoxy products can help with small cracks and all the way up to any larger concrete problems, such as spalling.
After the repair work is complete, it is common to use concrete sealer. A sealer helps to keep your concrete from any future cracking and offers longevity that many other outlets do not provide. Keep your concrete structure in good standing when you use our resin repair products.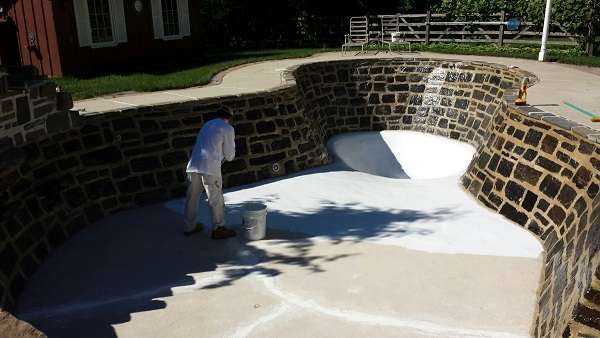 Request A Free Quote Today
Delta Polymers of New York has years of experience in the industry and provides clients across the country with a wide range of products, including concrete repair products and compounds. We are located in Bay Shore, Long Island and manufacture all of our materials in-house. Check out our full selection of reliable epoxy products that effectively repair concrete.
For more information about all that we offer, please contact us today. When you reach out, we can provide you with a free quote for any of the materials we have in stock. Call us toll-free today at (800) 966-5142 for more information about our epoxy compounds. We will happily answer any questions or concerns you may have about these products. When you call, we can also go over our wholesale pricing options available.