Delta Polymers is an in-house manufacturer of epoxy resin and epoxy bonding compounds for industrial uses and applications. We offer epoxy bonding compounds for use with concrete, steel, and mortar. So you can find the one that best suits your applications.
Delta Polymers is headquartered in Bay Shore, New York and our distribution includes many local businesses on Long Island, New York. We also distribute to customers nationwide. Our epoxy bonding compounds find uses for many industries across the country. We have a great selection of epoxy bonding compounds for sale. Custom manufacturing possible for some cases. So please reach out to us to learn more.
Epoxy Bonding Compounds for Sale
Delta Polymers has years of experience in the epoxy industry. We provide outstanding epoxy products to customers across the country. These bonding compounds are used as a bonding agent for concrete, steel, plastic, wood and dissimilar materials. Be sure to choose the item that best suits your needs. Since we are an in-house manufacturer, we can easily customize the order, too. Get the epoxy coatings that you need!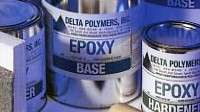 Our epoxy bonding compounds serve many purposes with the user. It is used to help waterproof certain properties. Piers, bridge pedestals, abutments, and highway dividing walls are among some of those properties. These compounds are used as a protective coating. These compounds aid floors, walls, concrete, steel, wood and other construction materials. Then there is the non-skid coating aspect. When used as a binder with suitable aggregate broadcast on it, it provides non-skid overlays for sidewalks and factory, warehouse, and other floors. Ultimately protecting them from mild traffic and chemical attacks.
CRC 200
CRC 200 is one of our leading epoxy bonding compounds. It is a 100% solid Superbond® epoxy system that is primarily used as a binder and resurfacing compound. A modified epoxy-amine system having unique properties featuring moisture insensitive, high strength, high modulus and load transfer. CRC 200 presents an excellent bond to concrete, steel and wood. It meets ASTMC-881-87 Grade I class B&C Type I, II, IV & V.
Use CRC 200 for the following reasons:
to bond new concrete to old concrete
fill voids and joints in masonry
grouting bolts, dowels, and rebars
to patch and repair
CRC 211 PS
CRC 211 PS is an epoxy binder and bonding compound. In general, use CRC 211 PS as a binder for sand or coarse aggregate when patching or resurfacing horizontal concrete surfaces. You can also use it for bonding new to old concrete. CRC 211 PS conforms with all regulations and is easy to use.
Contact Delta Polymers
Delta Polymers has years of experience working with epoxies and manufactures high-end epoxy bonding compounds for industrial use. For more information about our manufacturing capabilities, please call our office today. The number to dial is (800) 966-5142. When you call, we can provide you with a free quote and go over any of the details for the product.
So please, do not hesitate to reach out and learn more about our epoxy bonding compounds today!! We will happily answer any questions you may have about our epoxy bonding compounds. Please ask about our wholesale pricing options, too. We look forward to helping you with any of your epoxy needs and answering any questions you may have regarding our products and materials. So, what are you waiting for? Call today!