Long Island Manufacturer of Epoxies
Delta Polymers is a nationwide distributor of epoxy waterproofing membrane. One such membrane we manufacture is pool epoxy. We have a great selection of products to use for your pool area. Many across Long Island use our pool epoxy for swimming pools. However, you can apply it to pool and marine decks, too. Seal cracks and keep water from seeping out with our high-grade epoxies. Anywhere you may need to waterproof, our epoxy materials can be used.
All the materials we distribute we manufacture in-house. We make custom ordering simple and easy and pride ourselves on providing all of our customers with top-of-the-line pool epoxy products at affordable prices.
Why Choose a Pool Epoxy?
An epoxy coating is a great option for a swimming pool, as it can give it a fresh, new look. And it will ably protect the pool from damage and prevent leaks from occurring. Of course with any project, there may be drawbacks, but choosing the right pool epoxy can go a long way. Not to mention all of the benefits of its application, which can extend the lifespan of the pool surface.
FAQs about Pool Epoxy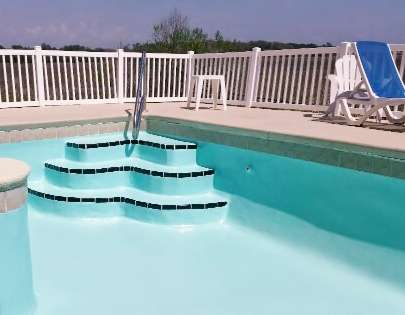 How Long Does an Epoxy Coating Last on a Pool?
When the epoxy coating is properly applied to a pool and then properly maintained, an epoxy-coated pool can last anywhere from 10 to 15 years on the low side and longer. However, other factors may determine the lifespan, such as climate, frequency of use for the pool, and proper maintenance.
How Long Does It Take to Apply Pool Epoxy?
This all depends on the size of the swimming pool and the number of coats needed to complete the coating. In general, coating a pool with epoxy can take anywhere between several days to a week to complete.
Can I Change The Color of my Existing Pool with Epoxy?
Yes, epoxy coatings are available in a wide range of different colors and finishes, which makes it a great choice for changing the look of your pool.
Can I Apply Epoxy Coating to a Vinyl or Fiberglass Pool?
No, it is not recommended to apply epoxy coating for vinyl or fiberglass pools. Both of these types of pools will require a specific coating that is designed for those surfaces.
Should I Hire a Professional to Apply Pool Epoxy?
If you are not already a professional in the field and are considering pool epoxy, then it is suggested that you hire someone. Unless you have the experience necessary in order to complete the job. Of course, doing it yourself is more affordable, but hiring a pro will likely result in a higher-quality finish. And the overall time it takes to complete the pool epoxy application will be shorter with a professional on hand. We understand the allurement of saving money, but applying an epoxy coating requires skill and experience and leaving it to yourself is a risky proposition.
Buy Pool Epoxies Today
Delta Polymers is a trusted epoxy manufacturer located in Deer Park, New York where we have been for more than 25 years. We manufacture a broad range of epoxy and resin materials for customers nationwide and around the globe.
In general, our pool epoxy is great for Long Island homeowners with a pool, as it protects the pool and the safety of those around it. And it is the perfect pool epoxy for commercial purposes and if you work on lining pools. Our pool epoxy offers an array of great benefits to the user and is a cost saving measure due to its ability to prevent leaks, rips, damage and stains. Make the upgrade today and buy pool epoxy from Delta Polymers. One of the best pool epoxy products we sell is Polyastic.
For more information about pool epoxy and the benefits it provides, please contact us today.
We are an in-house manufacturer of epoxy products. Check out our waterproofing membrane epoxies. The number to call for our office is (800) 966-5142. Our customers service staff will happily answer any and all questions you may have regarding our product selection. We strive to go above and beyond for each of our customers. So please, give us a call today. When you call, we can provide you with a free quote.